Yes, that's what I said. A one dollar quilt! A few years ago my sister asked me to take her to the airport. Her plane left around 7:00 a.m. so we were up and moving early. (Not a problem for me but for her...)
After being the kind, loving sister I am (are you reading this sis?) and dropping her off I headed home. About a mile from home I see a yard sale sign. It's only 6:00 or 6:30 but being totally impressed with the fact that a yard sale was starting this early I had to go see for sure. They were set up and open!
Started looking around and I see a folded up bit of fabric that looked quilted. The white backing was out and you couldn't see the fabrics or pattern. On top is a little sticky that said $1.00. It's still on the quilt because I still can't believe my good luck.
Okay, that had to be wrong. Even an ugly quilt (is there such a thing when they are made with love?) would be more than that. I flipped a corner back and saw nice, bright fabrics and a lovely pattern. Said I (in disbelief) "this is $1.00?" "Yes" she said. "I'll take it". I moseyed for, oh, another 30 seconds and got out of there before someone else could come in and battle me for my treasure.
On arriving home and opening the quilt I was thrilled.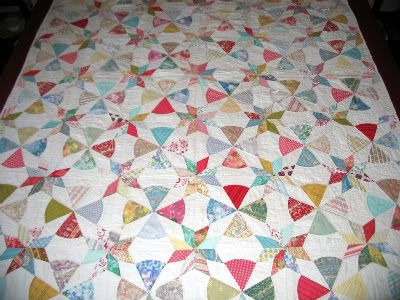 It fits perfectly on top of my king-sized bed with no overhang.
There is a bit of damage but overall the quilt is a beauty (especially for a buck). I'm thinking it may be from the 50's or 60's??? One fabric a purplish color was used in seven locations and each one had deteriorated. I've been told that I should find fabric from that era, cut a bit of batting and fabric in the shape of the missing piece and gently applique it over the quilt. This will keep the integrity of the original and still be nice to display.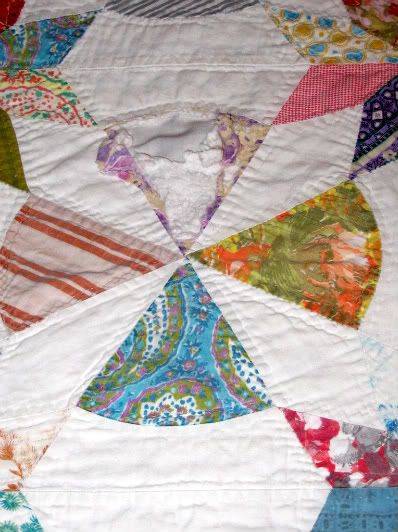 Needless to say, I enjoy displaying this pretty quilt and only wish I knew the story behind it. Oh, and I just realized this morning that the initials on the price tag are the same as my sisters: M.D. Is that odd or what?