I'm beginning to understand that bunny more and more. Only I would have to say "still folding" instead of "still going". Even with a cold I kept on folding. Then in the Target Sunday ads last week they had these cabinets on sale for $38.99. They run 60" tall x 24" wide x 12" deep. They are the PERFECT size for the refolded fabrics. They are easy to put together too although I found an easier way on the second one than what the directions said. Only thing about this cabinet is if you have little ones you really need to mount it to the wall with the included mount. They can tip over when empty with the doors open.
Before in drawers: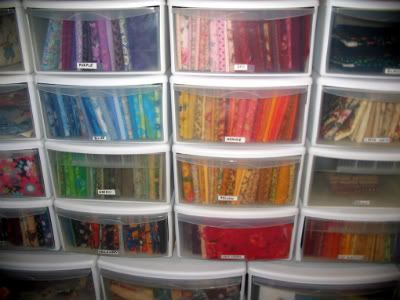 After in the little cabinet from Organize-It. The cabinet on the left is holding 8 of the drawers worth of fabric.
I love being able to open the doors and just see all the beautiful colors so neatly organized. Still have a ways to go on folding so they will all be moved around again but it makes me happy so far. I have one more cabinet to put together and might have to pop for a 4th. In the long run I think I will use more fabrics on hand now.
Oh, and something I thought of as I was folding is you can easily tell about how much of each fabric you have. Since it's wrapped around a 6" inch ruler you just have to count each layer and multiply times 6. What an added bonus!
My plastic drawers have been moved to under the sewing tables for scrapbook items, doll stuff, etc. so now that is all neatened up too.