The colors in this quilt are just right for Fall. It was paper-pieced which is a wonderful way to get crisp points for miniature quilts. I believe the pattern is the Flat Iron so with that in mind this was named "Pressed Leaves".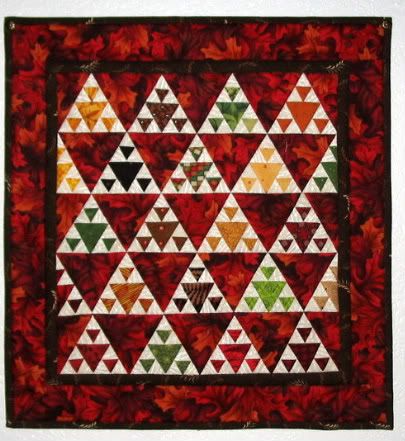 Minis are one of my favorite quilt items to make. They are a great way to practice a new pattern or technique, get something quick done (compared to a large quilt), use up little bits of much-loved-kept-for-10-years fabric pieces, and to give that sense of satisfaction in completing a project.
Even though this mini stays out year round I had decided to rotate a mini or wallhanging out each Friday in my hallway. Then, on Wednesday, a member of the quilt group I recently joined shared a display tip. She stitches the soft side of velcro to the back of her small quilts and mounts the hard, scratchy side to a permanent rod. She can easily change out her quilts for display. Great idea! I could see having several of these bars to fit areas for minis and larger wallhangings. A constant revolving gallery to show off your art without using push pins. Her idea clinched my rotation plans.
Now off to get ready for a scrapbook convention today. Gotta oooh and ahhh over all the pretty paper fabric.
Enjoy your day.