but still exciting. We had weather! Rain! The real stuff on Tuesday! Yeah, I know, big deal, but I love the rain and the way it makes the leaves greener and that bit of fresh smell and the thunder and lightning. Just love it! And, we had bonuses with it. It hailed first! Lots of nice, hard, rocky, little balls that melted the instant they hit the ground. You might see a few in the pic - maybe not. It stopped almost as fast as it started and I went running for the camera so kind of missed the few minutes of hail. We almost always go outside and just watch any weather that isn't just hot sun and more likely than not walk around a bit in it. Oh, to have REAL seasons!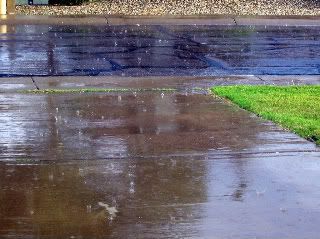 Now, tilt your head to the right, maybe to the left a bit, rock your monitor forward just so. Do you see it? A rainbow. Who doesn't love a rainbow after a rain?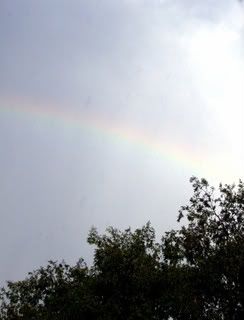 In celebration, I took a shot of this cute little quilt I made years ago. It says "I bring fresh showers for thirsting flowers".