Poor Rosy. She knows she's not allowed in here but she still tries anyway. Inch by inch and step by step. Her favorite spot is always under my feet and that just doesn't work when you're trying to sew. So, the rule is "NO DOGS ALLOWED" in the sewing room. Why do they want to sit right under your feet anyway?
Please can I come in? She's learned that this is as far as she can go.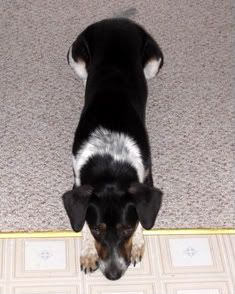 She must have known I was going to put her photo up. I'm just sure she posed for the photo below. Isn't she too cute? She has a great personality. BTW - she's half Jack Russel and half Australian Cattle Dog. In other words, a hyper, ball-obsessed, highly shedding, nut. But we love her.