Yay! I finished piecing the dog quilt top yesterday for DGS-yet-to-be-born. I'm pleased to have it done but had arguments pro and con with myself over it and even thought of not giving it to him for 5 years or so. So I slept on it and worked through the pros and cons.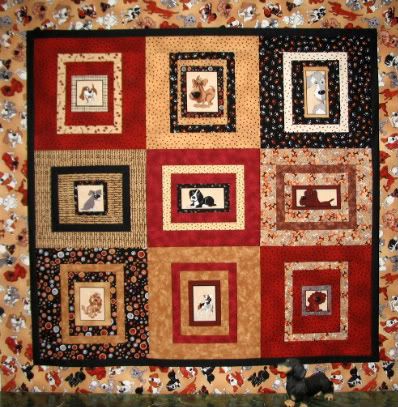 Con - it's not very baby-baby. Not the typical quilt perhaps for a newborn.
Pro - it reflects the love dgs's parents have for dogs. How will he not be able to love them too. It will give him something fun to look at and point out as he starts to notice these things.
Con - it's big for a baby quilt. It's too wide for a baby bed and too small to fit a twin for later on.
Pro - it's big enough to cuddle under and mom or dad can cuddle under it too (and maybe a dog or two). Hubby made brownie points last night when I was second-guessing myself and said "he'll be able to enjoy it longer". Big smooches to him.
Con - it is squarish. Not exactly square because it's 2" shorter than wide - 52"x50". This is because the top and bottom row of blocks are 14"x14" and the middle row blocks are 14"x12" - this is on purpose. I wish now that I had added another row of 14"x12" blocks and considered taking it apart and redoing but... yeah, right.
Pro - the top is done and the baby won't care. My son will just be shocked that it's done before he turns 10 and hopefully dd-i-l will be pleased that it was made especially for dgs.
So, those were my arguments as I hung it up and looked it over last night. It is overall cute though and I was able to get the weiny dogs fully on the border. They have 2 of the little stinkers - a red one and a black one. (They also have an old pit bull rescue dog who is one of the sweetest, gentlest, most chicken dogs I've seen. She looks scary, but she's not. They just lost their chow/shephard mix who was a sweet but scared rescue dog. What a mix of pooches!)
Have not decided how it will be quilted. It would be cute to do dog bones or something all over except on the pics of the dogs. I'd quilt around the square/rectangle for them. And, I have extra dogs that I can choose from for a label.
What else doggie can I make? Hmmm, a stuffed weiny dog would be fun. I still have until 10/30 to go. Plenty of time. :)
Oh, and don't mind the "off" picture. You know how it is to photograph a quilt, one side always has to wave at you so I just cropped the darn photo to hide the white walls behind it. The border is 4" all around. I decided to use a solid black for the inner border because it needed a rest between printed dog blocks and a printed outer border.