Subject to change at whim, of course.
I had a funny conversation with my sister-in-law earlier this week. She asked me if I had ever gotten the quilting machine I'd wanted yet. "Nope, talk to your brother" I said.
Then we got to talking about UFO's and I told her I'd been sorting through mine and probably had a good 50 projects. She tsk'd, tsk'd me, and said she only had about 5. Wow! And she mostly hand pieces and hand quilts and seems to get a lot done. Then she said if I got the machine she had lots of tops to send to me to quilt for her. Huh? Wait a minute, I thought you only had 5 UFOs??? "I do" she says "but I have a lot of pieced tops ready to quilt". hahaha So, her idea of a finished quilt is the top being done.
Yay! Great theory. I have fewer UFO's than I thought! And, my plans should be to finish piecing the tops so there would be more "finished" quilts which equals less guilt when buying new fabrics and starting new projects.
This led me adjust my lists in my side bar from UFO's to read Ready to Quilt (finished technically - right?) and Ready to Piece (basically kits or not a whole lot done). I think I should add a third category - the "there is so little done that this is really just fabric and not a UFO).
Adjusting my lists led me to today's plan. After going through all UFO's I decided to pull four items out to finish before the end of October. This sounds like a lot but they are so close to done that it could happen. Here is what I chose and why they were never finished to begin with.
1. Christmas quilt - Pieced this about 15 years ago from a 9 patch block swap. Had it quilted about 5 or 6 years ago. Only needs binding but instead of just doing it I chose to do creative folding to display at Christmas. Reason for not finishing? Basically, laziness.
After all, it is only a display for a month or 6 weeks quilt.
2. Frankenstein. He's about 10 years old - looks older doesn't he. Why not finished? The blue block with the lightning bolt on the right. Don't like it. Off to the drawer with him for "later". It's such a quicky fix too. The plan: fix it, finish it, display
this
Halloween.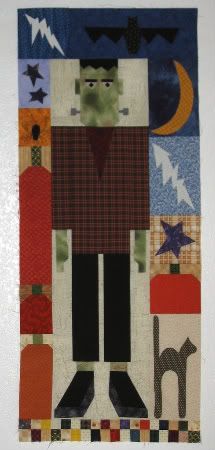 3. Your Special Day birthday banner/pillow topper. This was for dd's special day 5 years ago. Hey, at least it's less than 10. Problem? I zig-zagged around all those little pieces when I should have buttonholed. You'd think that I would have realized I didn't like it after a couple pieces, but, no, almost the whole thing is done this way. Solution: get over it. Finish zig-zagging and hang the darn thing up on everyone's special days.
4. "Stained glass" Peace banners. These letters are so much prettier in real life. Put so much time into this one too making all that bias. Big icky here. Not thinking it through I put the back on the P before stitching the bias down. Icky, yuck, nasty looking on the back. Used a twin needle to stitch the bias and it shows as a big black zig-zag on the back. Where did it go? In the projects to be finished pile. But, hey, I've almost got it apart today. Didn't worry about saving the back since it wasn't my favorite anyway and I want them all to match.
Should have done this before I added the back:

Instead I did this: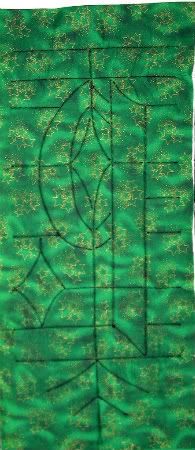 The finish-by-the-end-of-October does not include the two new project tops that I just pieced because they will get quilted no matter what.
Hmmm, just making these lists makes me have that "accomplished something feeling". Makes me want to start something new.