Monday I added another year to my age. I have no problem with that considering the alternative. The biggest surprise is waking up some mornings and feeling an ache or a pain here and there without a real reason for it. I mean, in my head I'm still 29 but the body is constantly calling me a liar. My daughter now knows my real age but it was so nice when she was little and told everyone I was 29 (and I was deep into the 40's). Maybe I could convince her to say 39 now instead of one of those 5.. numbers.
Mom took me to lunch at Panda Express. Little did I know that hubby had planned on making dinner (total shock). Well, haha, he brought home a bakery cake and a frozen lasagna. He called "dinner's done". Got to the table, no plates, glasses, or anything extra. Dinner was just that - lasagna and cake. I was a good girl and said nothing and just counted it a plus that I didn't have to cook. But, ugh, what a combination of food that day. I've never told him I don't like bakery cakes when he is nice enough to bring one home. But I did tell him that dd could make a cake next year. Subtle hint.
Now to quilty stuff. Recently I've been working on UFOs and made the binding for my large Christmas quilt on Monday. But decided I didn't like the binding and got disgusted and put it all away. So today I felt the need to make something new. Couldn't be something big because it would end up a UFO. Sure don't want another of those darn things.
Decided on something Halloweeny and pulled out Angels Among Us by Nancy Halvorsen that had a calendar quilt in it. The October one was just the right thing.
A couple of hours, fabrics from the scrapbag, fusible web, and a bit of buttonholing and here is the almost finished mini quilt: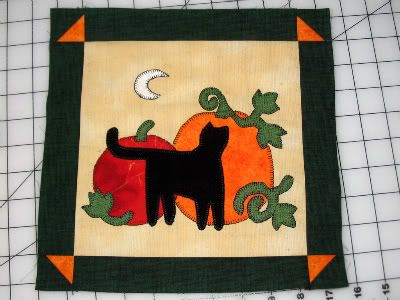 I'll add the kitty's face tonight and maybe a kitty-pumpkin saying and do a quickie quilt job. Ahhh, these bouts of instant satisfaction feel so good.
Now, just because I felt like uploading pictures here are a few of the dolls from last year dressed up for Halloween. Tonight dd and I are going to sit down and try to fashion some costumes for some of her vinyl children.
That's me on the broom.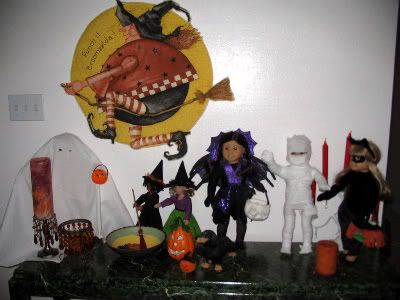 Bitty Bethany wearing a dress made from a pattern by biscotti725 on ebay: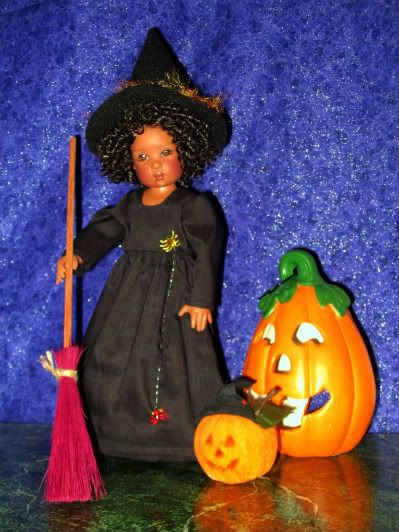 And here is Leeann wearing a dress from that same pattern.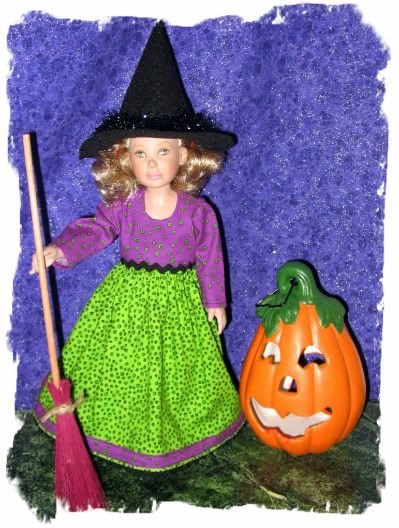 Back to playing (and laundry). Dinner is leftovers so plenty of time for more playing this evening.