This past week did not include much sewing but it did include a bit of light shopping.
I did work on the little Halloween quickie quilt to feel like something was accomplished. Did a bit of quilting around the motifs so all that is left is the binding. I might just use it as a little table mat. I could not think of anything cutesie to embroider so put "black cat, orange pumpkins." I showed it to my 9 yr old and she just laughed at me. She said in that boy-you-aren't-real-smart-tone that kids that age can have that there was only one orange pumpkin and the other is red. Hmpf! One is just a very dark orange bordering on red. That's my story and I'm sticking to it.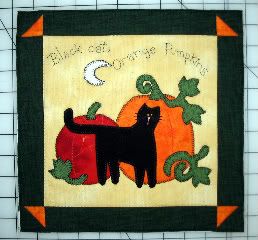 Made a trip to Joann's where I bought lots of interfacing. When I got home a new flyer was in the mailbox with, yup, you guessed it, all interfacing 50% off mid-month. Figures.
Bought a new book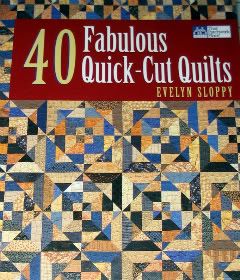 and found several quilts that I'd love to make. Oh, oh, more projects. You know how it is! Forgot a few of the things I went for but sometimes I think this is the brains way of making sure another trip is in the near future.
Online, a member of the Yahoo group I lurk in shared a fun website
http://www.fatcatpatterns.com/
with lots of freebie patterns, swaps, etc. The Family Dirt section is pretty funny. I'm sure we all have stories like these to share but she was brave enough to put them in writing.
While surfing online and going back to some of the same sites to look at some of the same patterns I found I could no longer resist this one from
http://www.crabapplehillstudio.com/
.
I thought it would make a great take-along project. I'll use the cream/tan something for the background like in the pattern and will have plenty of time to decide what color to use for the flying geese. Finish goal: the end of October next year. Oh, and this pattern arrived incredibly fast!
Since I was on a pattern shopping binge I decided to get this one by Lori Smith too. You can find her patterns at
http://www.frommyhearttoyourhands.com/Qstore/Qstore.cgi
.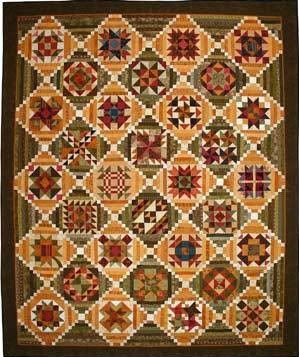 No real plans for starting it yet. I love the colors she used in her quilt and the stepping stone blocks in between. Check out the fat quarter patterns on her website. I think it would be easy to get addicted to just doing these little quilts.
Also, a big thank you to
Melissa
at Cornbread and Beans Quilting for sharing a great prim website
http://www.primitivepiecesbylynda.com
. Lynda has wonderful areas to explore on her site. I wish I could go to Houston Market to see her quilts in real life. I definitely see a project coming on from one (or two or 3) of her patterns.
Well, that is enough enabling for one day. Hope you check out all the links. They are all well worth a look.
Melody