I'm ready to have a full no cleaning, no running, minimal cooking, sewing day. I think I'll recruit my mom to iron strips and work on turning strips/scraps into blocks. I'm dedicated to cleaning out scraps and smaller pieces this year as well as completing UFOs.
Meanwhile, here's another dog block. She's known as Prissy on the pattern and she is. Nothing like my dearly departed poodle, Bunny, who could run with the big dogs. Prissy makes me think of a librarian. haha After quilting, she'll have a beaded eyeglass holder dangling down. Won't that look cute?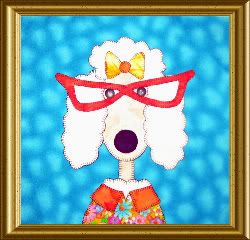 Starting to think about settings and thinking simple is the way to go so it doesn't compete with the pack members.
On a serious note... couldn't sleep last night due to worrying. Yesterday my debit/credit card was declined at Target. I thought it was just my card was old and worn out (can't tell you how many times I've stuck it in my jeans and washed it). Then late yesterday I was called to say my payment was declined for our mail order prescriptions. Alarm bell goes off. I call the bank and my credit card number had been stolen. Someone tried to put through a purchase of airline tickets on Air Arabia. I feel invaded, stressed. Luckily the bank caught it and cancelled my card. Now I have to make calls to companies that have automatic deductions today - insurance, etc. I'm just sure I'll forget something and it will be an additional hassle.
Guess the thing, besides the hassle, is not knowing how it was stolen - an employee somewhere? online? so I'm not sure what to do for it not to happen again other than keep a close watch. Grrrr. It's frustrating.
Off to happier things in my sewing room.
Hasta manana.