Ha. Anyone who knows me would not recognize me today. At least from the back. I have been sewing my butt off and it is almost gone. hahaha I wish! I pulled an old project out (why? when I had others out already) and felt the urge to work on it.
This morning I sat down on EQ and did a block and color layout. Cut umpteen hundreds more squares and have been sewing ever since. I had 17 blocks and need 49 and if I keep at it they will be done tonight. Tomorrow morning at the latest. Don't want to stop to do a pic so that will be tomorrow too. It's all out of scraps again. Now to scrounge the cabinets for the sashing and borders. Got a feeling I will be "forced" to shop just a little bit. Awww.
Now the dog part of the program...
Introducing Pugsley. He's a nature lover and doesn't mind that weird butterfly sitting on his head.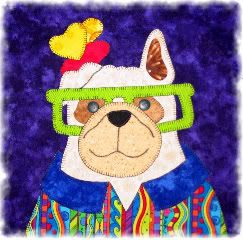 Oops. I noticed after I took the pic that I had forgotten to buttonhole around one of his eye patches. It's been fixed since.
Back to the machine. Have a good rest of the day.
Hasta manana.