to the side. Not going to say back. How can it be back if you are playing or learning something new?
Even though I have not blogged I have not been idle. I have lots of pics but will only share a few and save the others for another day.
First up... gotta share my dogs...
The first one is Frankie. I just love this guy with his backwards hat and his tongue hanging out. Don't mind the eyes those are just buttons I laid on there for now. They really look weird and kind of freaky in the pics without eyes.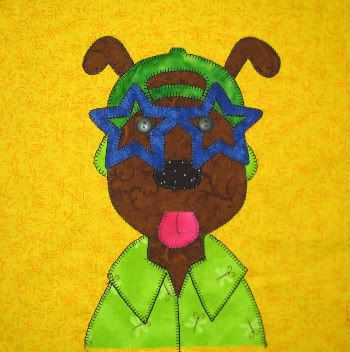 Next is Major. Good name for him because he was a major pain. First I made a block but didn't like the buttonholing because I did it on my dd's machine and kept doing things backwards. You get so used to your own. I messed his tongue up on the first one anyway. So here is the second one and can you believe it! I messed the tongue up on him too. It was tucked up under his chin instead of coming from under his mouth. I decided he didn't need a tongue and just removed it all together. He's still a good boy though and a friendly pack member.
I did get my stack of blocks finished but will post them tomorrow (or the next day (or the next))with another stack of blocks I've been working on. Meanwhile, here are the side steps.
These little cutesies are so much fun to make. I saw one at the quilt store and came home and played.
This one is made from the leftovers of dd's quilt I made her at Christmas, so, of course, she has it in her room and has already dropped some of her jewelry (aka shrinky dinks) into it.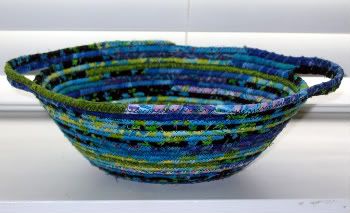 And this is the first one I made. Much smaller than the blue. The blue is about 9" across. The orange is about 6.5" and much more shallow. Wish I hadn't added the light orange solid ring but, oh, well, I still like it. It is sitting by my sewing machine holding feet and machine needles and a few other little essentials.
I see many bowls in my future and have ideas running through my head.
Well, hasta manana. For real maybe this time. Where the heck DID the last 10 days go?
Melody