The bin was overflowing.
Started sorting by color.
Got mom to help sort them.
Some colors took two grocery bags, others barely the bottom of the bag.
Started sorting the colors into two types - bright, fun prints and country colors.
Took the two types and sorted the big pieces from the small.
Found another box full of scraps. Ugh. Worked on those.
Decided to make a quilt for dd for Christmas.
Tore through the bags.
Made a mess.
Made a quilt.
Resorted.
Now it's time for another quilt and the brights are coming out to play.
Had 17 of these 7" blocks but no idea where I was originally headed. Made a plan on EQ then made 32 more blocks. Bought the sashing and border fabric (nothing big enough in the stash) and it's ready to put together for a quilt that will measure 72x72 or so. I kind of found it hard to decide on a sashing color with so many colors in the blocks. Had dd help decide so we will see if it works.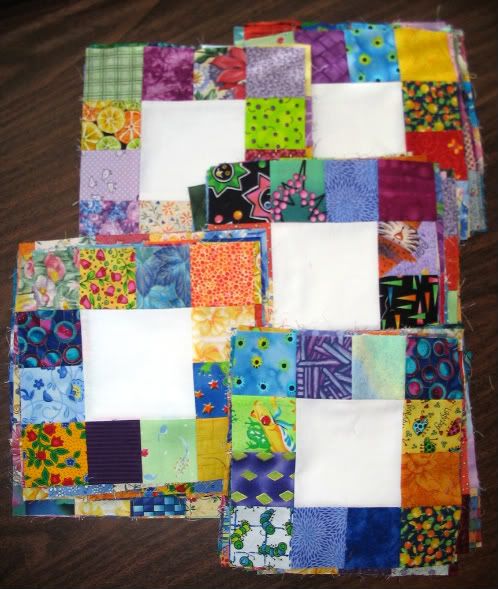 While the brights were out I decided to do a string quilt and started cutting strips from widths of 1" to 2 1/2". Here's where they are headed. Funny but these blocks are 7" too. What an odd size.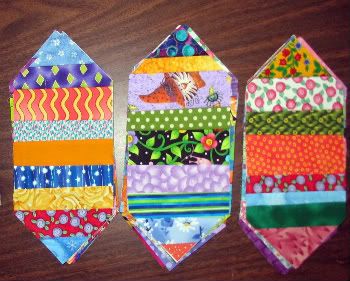 Possible layout: tilt head to the right or left - it will be set as an X not a +.
Possible layout 2: sashing between to define circles. There are only 31 of these so far but there are more scraps to cut. Not sure how big it will be yet - maybe when the scraps run out or I'm out of phonebook pages or I get tired of sewing strings. We'll see.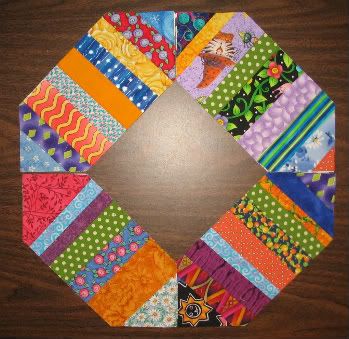 You can see other String X quilts
">here
. If you scroll down there are more links to other string X quilts. Meanwhile, check out her other scrap quilts and get some inspiration to use yours up.
Even if I don't get around to making a top for a while it is so much nicer to have stacked up blocks instead of bags stuffed with bits and pieces.
Hasta manana.
p.s. I am saving the little itty bitty tiny itsy (you get the point) pieces for another project too. LOL Obsessive, compulsive personality type.