My dogs are done! They are just so cute. Now to decide if I want sashing in between or not. They will have a small inner border then the Tossed Dogs fabric for the outer border. I'm getting more excited about the new little guy.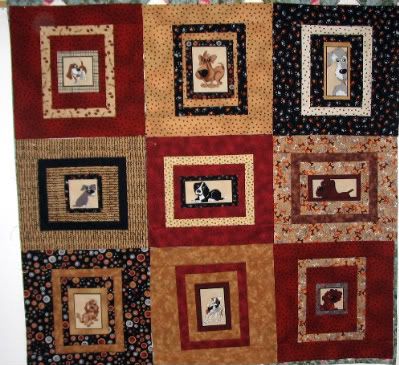 And, Happy Zombie, again, I can't say thanks enough for the how-to of folding fabrics. It seems like such a simple no brainer thing. And although I folded my fabrics and sorted them by color they were never this neat. It's amazing how much room it saves to fold them this way. They fit perfectly in my Sterilite drawers and right to the top. I've been able to consolidate two drawers into one.
As a bonus I'm pulling out anything smaller than a fat quarter, getting rid of fabrics that were lower quality, and ones I no longer care for.
My newer fabric purchases have been living in boxes and instead of looking through them I just go shopping. Not good for the pocketbook so this really has been a super whammy - organizing, cleaning out, saving money! My new ones will get into the drawers and the boxes will get tossed. Ooooh, I love organization.
Before:
After:
On the down side - it's so boring folding fabric. How many more drawers/boxes to go??? Okay, I'll suffer through it so it will be easy to find the fabric and my creative genius won't be put on hold while digging for that perfect piece. :)