I'm doing both - haha - the snail's trail and the square in square. Figured since I was cutting I may as well cut both.
The main one is the snails trail and I've cut 30 blocks out with 40 to go. The other quilt will be cream and aquas/teals with green centers. I liked the black center but decided I wanted to keep it light.
I'm going to use up these greens and blues that have been in my stash for ages and not have all those little 6-8" pieces laying around for a few more years! Although I did save the little strips for a future strippy quilt. That's my grandma's fault since she always quoted that depression era saying "use it up, wear it out, make it do, or do without". Translation: save it all.
Pretty good start since this all just started yesterday. I feel good!
Now if I could make a decision on a pattern using the Asian fabric dgd picked out.
Snail's
Square in square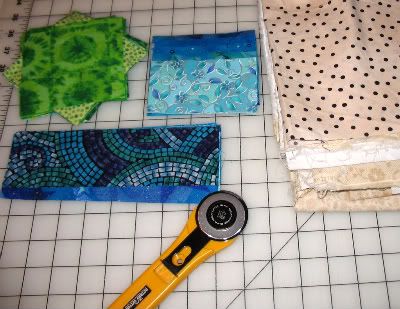 Future strippy (yeah, right - maybe 10 years from now)