Did I get the baby quilt quilted you ask? Ummm, well, uh, okay fine! No, I didn't. However, in my defense, the day was not wasted. More on that below.
Got the baby quilt out, got the backing out, got the Warm N' Natural out. All was ready to go and then BAM - quilter's block. Is there such a thing? I'm sure there has to be. Just could not decide how to quilt it. So I hung it up in the hallway just outside the sewing room door so every time I turn around I would see it. Believe it or not I think it worked. I realized that each dog block needed to be quilted in it's own way. Each looks like someone took a picture, framed it, and now it's sitting on the desk to be admired. With that in mind I decided to let each block speak to me as I get to it. The frames will have zig-zag or swirls or just outlined stitched. Just whatever it says it wants. The border will be "whatever" too when I get to it. Guess you could say my plan is to have no plan.
So on the backburner again until tomorrow. But hey, I'm not going to feel too bad. The baby is due any day and they still have not decided on a name.
Now for the "not wasted" day...
First, two quilts were cut out to save me from pulling, ironing again, etc. all those fabrics. I wanted them used up. Here's the Snail's Trail waiting to be pieced. Might add a few random purple snails but we'll see. Total coincidence that they are sitting by a diffuser that says "peace". haha
See the little girl sitting by by those pieces? She and her two sisters are a bit upset that they've been ignored so much and she was letting me know it. I caught one of the girls on a chair trying to find snacks while I was busy sewing. Unfortunately, the cupboard is bare so a trip to the grocery store is on the agenda for today.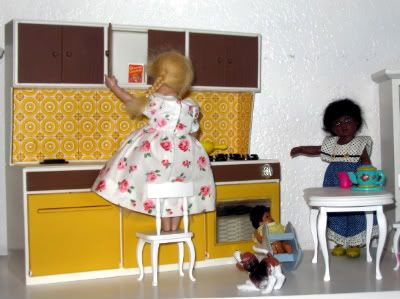 What was I doing while ignoring the kids? I stitched Square in Square blocks until my eyes were squared off. Out of 72 blocks all but 17 are done. Those 17 just need the 2 large pieces stitched on. That will be done after this post. Here are some of the blocks laid out. Not the final positions.
Now here is my take on these blocks:
Cons: 1) a pain in the butt to cut from scraps; 2) boring with a capital B to sew, just no challenge at all
Pros: 1) lots of scraps are finished up, gone, finito, outta here, YAHOO!; 2) quick to piece - no points to match up; 3) nice and random with no thinking in regards to colors other than making outer pieces all blue, all green, all purple; 4) no pinning, I don't think I pinned anything at all which adds to the speed of piecing.
Even though I didn't like cutting it I would do it again to use up my scraps. Here is the birds share of those scraps. I'd say there is probably a yards worth of little pieces. :( But you just can't save it all or use it all. And, in looking at an old 2001 magazine last night I saw some of these fabrics in an ad so they have been hanging around long enough.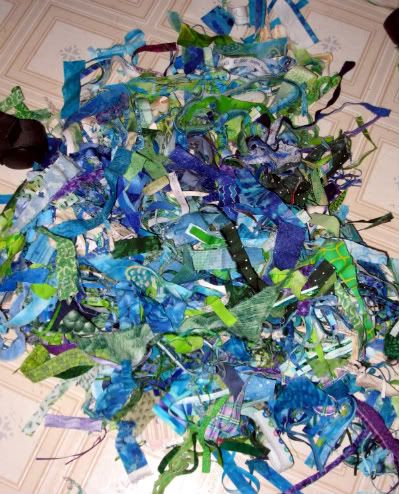 Couple other thoughts on this quilt. I was going to do just greens and blues then thought it needed one more color so I cut out a bunch of creams from scraps. The creamy ones didn't look right. They appeared too countryish alongside the modern lime/turquoise pieces. Now I have a nice stack of pre-cut creams to use elsewhere or maybe I will cut out browns from scraps and make a lap quilt. (That brown fabric is the back of the baby quilt).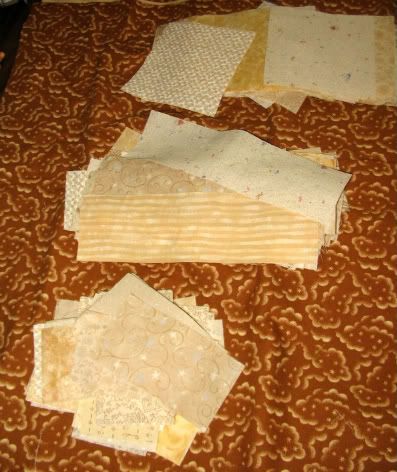 I then cut out purples and I think the small amount of purple blocks not only works well with the blue and green but it will add a bit of interest and spark.
I ran out of the long pieces of green but had enough 4.5" pieces left that I sewed a couple up and used it as a long piece. If this hadn't happened at the end I might have purposely done other blocks this way just because it would be less boring to sew.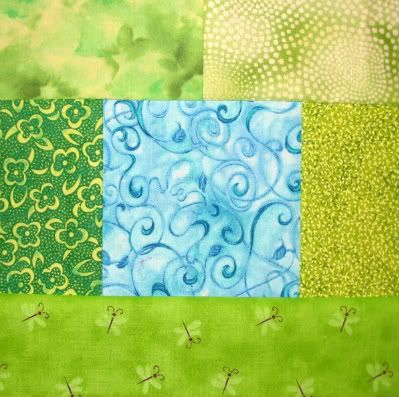 Also, since I was using scraps in blues and greens I used "scrap" bobbins. Any bobbin with blue or green thread on it was used to piece these blocks. Now many are cleaned up and I'll do the "buy two spools" tip.
Well, this has gone on long enough. Now to finish off those 17 blocks. Then I'd better do the "real world" stuff. Poo - I wanted to sew all day again today too.
Until next time have a fun and productive day.
Melody