HAPPY NEW YEAR! I wish for you a fabric cabinet that magically replenishes, always full of just the perfect fabric needed, and that all your project goals are reached. If you can't make it happen then I wish some sweet little elves to visit and finish them for you before years end.
I'm in the midst of setting quilt goals - pulling out old projects, planning new ones, dreaming of all the beautiful items I'll have finished by the end of this nice, fresh, not-yet-used new year.
One thing I decided to do was document my quilt endeavors this year. Nothing fancy. Just a way to organize projects and quilty stuff. I took a sitting-around-on-the-shelf-wasting scrapbook and made it my new Quilt Journal. Put a little ufo block in the picture slot on the front. I'll embellish the cover with fabric pens down the road just because I feel it needs it (or maybe not if I don't get around to it.)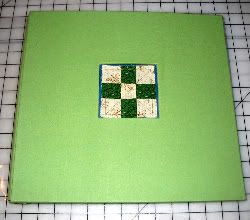 Put a couple projects in already. The first is for a tree skirt I want to make to match the table runner I made for this year. Now the pattern is handy along with fabric swatches.
The second is a project I'm working on to use up scraps. I have a little piece of one of the rows along with my calculations.
Next is a purse I'd like to make. The pattern, fabric, receipt, and a quilt shop tag is in the pocket.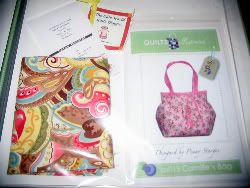 Quilting and crafting is an important part of my life. I decided I want a physical "blog" of my fabric choices, designs, who I'm thinking of, what I'm willing to spend or not spend, and more. Maybe I will print out my blog as the year goes on to put with the journal, add pictures of finished and unfinished projects. Use the white sheet in the page pockets for notes, measurements, doodles, how I'm feeling about it. Or whatever I feel like doing. Use a pocket for blog ideas, a pocket for coupons (which I always lose track of until after they expire).
Wouldn't it be great to leave this for a future family member to read. It would be a genealogists dream to find something like this in the attic 100 years from now. Or could you imagine a future relative wrapped in a quilt you made then finding a book that documents your feelings, fabrics, cost? Wow!
You know, our quilts and our time are precious and worth remembering. I only wish I had done this years ago so I could look back on the journey and share it with the future.
Melody