Yesterday and today I spent a good amount of time completing or working on turning UFOs into "kits". These 3 are 4 patch variations. Must have been on a roll with the 4 patches in the 90's.
Kit 1:
Diagonal 4 Patch
- Cut out and stitched 15 4 patches, cut the last 12 side triangles and it was a complete kit. I'd even started piecing the top. Shouldn't take but a couple good sewing sessions to put it together.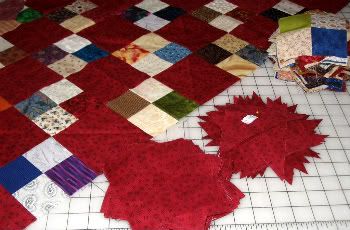 Kit 2:
Village Square
-
The magazine is from 1997 and I probably started it around that time. Had to cut out squares to make 5 4-patch blocks and finished cutting rectangles to make the half square triangles. It will take some doing to make all them but it's ready to go when the mood strikes.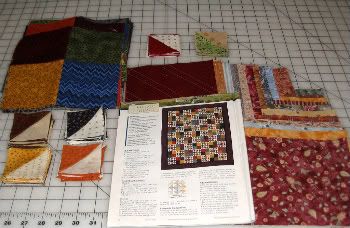 Kit 3:
Triple 4 Patch
- This magazine is from 1996 so it was probably started within the year following. The blocks are only 6" so it will take 256 to fit my king size bed. I had 83 complete, another 86 cut out and ready to assemble, and need to cut out the pieces for another 87 blocks. I was stuck in thirds. I'll finish this kit up in the next couple days.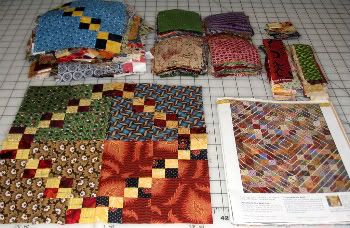 I'm going to continue to "kit" my UFO's so they are ready to work on and get them done THIS year. It's kind of a wake up call seeing how much time was put into these quilts only to be dumped in the drawer.
I heard a story that every quilter should package up their UFO's and put a family member or friends name on the kit. Should the quilter kick the bucket then the person named on the kit would be so moved that you were going to make them something so special that they will have it completed to honor your memory. HA We could have the last laugh getting all our projects done after all.
Hasta manana.
Melody